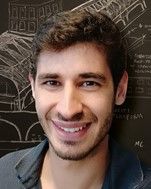 Michael Chernyavsky
Lead Engineer, Buildings Structures
,
Aurecon
Michael Chernyavsky is lead structural engineer at Aurecon with extensive experience delivering iconic infrastructure projects in Australia such as Sydney Metro's Central Station, Sydney Football Stadium and Bankwest Stadium. As Lead Design and Site Engineer of these complex projects, Michael's ability to understand project constraints and opportunities holistically from architectural aspirations to construction practicalities have contributed to innovative, sustainable and economic design solutions of essential public infrastructure for the people of Sydney.
Michael is an industry partner, mentor, guest lecturer, tutor and research collaborator with leading universities in New South Wales and Victoria. He's also led multiple cross industry collaborations.
Michael graduated with 1st class honours in a Bachelor of Engineering (Civil with Architecture) at the University of New South Wales. He was also awarded the discipline prize for first place in his undergraduate degree.
Michael joined Aurecon in 2013 and is now a well-respected leader within the global built environment team and broader industry. In 2020, Michael was honoured as one of Australia's Most Innovative Engineers by Engineers Australia in recognition of his role on the multi-faceted design solutions for the highly complex canopy at Sydney Metro's Central Station.